Matt and I went on a rare date last night to see Dark Knight.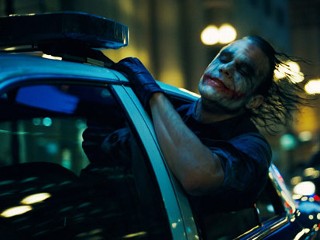 This is a fantastic thriller! Our enjoyment of the movie was made bittersweet by the knowledge that we won't see Heath Ledger in another performance. He carried the film, and at each brilliant scene or line we found ourselves contemplating this sad point.
Part of what made his performance so great is the camera work that was paired with Ledger's Joker scenes. Look closely - the filming is more loose, shakey, close, and just a bit crazed... this was a perfect method to convey his crazed and unpredictable character.
These more fluid and spontaneously shot scenes are a great example of how photography and film techniques can shape the emotional impact of an image. I want to encourage fellow photographers to take inspiration from the film making here - a perfect composition with perfect focus or stopped motion does not always convey the physics and emotions of a scene as thoroughly as shooting with a more intuitive and fluid approach....